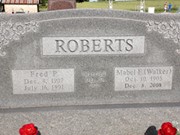 There is a story behind this photo.  I was in Payne Cemetery in Polk County, Missouri this past weekend, burying my last remaining grandparent… Alivene B. Skinner, my paternal grandmother.  In the course of the funeral sermon, I mentioned a certain Mabel Roberts from the Sentinel community.  She was born on October 10, 1905 and lived to be 103 years old.  It is interesting to note that she was a patient of mine in the nursing home before she died and was also an aunt to one of my brother-in-laws who is also a cousin (welcome to Missiouri !).  I didn't know what I'm about to share until she was 102, shortly before she passed away.
My paternal grandfather, James Skinner, was born into a profoundly poor family in the Sentinel community and his family never attended church of any denomination.  Sister Mabel Roberts and her husband, Fred, were members of Sentinel Missionary Baptist church and the church was having revival services one summer in my grandfather's twelveth year.  Sister Mabel stopped by and asked if she could take James to revival with her and Brother Roberts.  My great grandmother politely refused as James had no suitable clothing to wear to church. Mabel, undetered, sewed a shirt from breadsacks and later in the week approached the Skinner home again in hopes of getting James to church. This time she met with success and she and Brother Roberts took James to the revival at Sentinel.  James heard the gospel of Jesus Christ and about the know-so, heart-felt salvation necessary for the forgiveness of sins.  He fell under conviction and was allowed to pray undetered, uncoached, uncounselled, and undisturbed until he came forth testifying of God's amazing grace and the peace he had found at that altar.
He followed the Lord in baptism and began a new life with Christ which led to the man I knew and loved as "Grandpa", church deacon and charter member of True Hope Missionary Baptist church in Springfield, MO.  James grew and met a girl at Sentinel who had been saved at 12 years of age as well, Alivene Payne. ( It was in Alivene's grandmother's living room that Sentinel church was organized years earlier.)  These two young people fell in love with a courtship which was nearly exclusively in church meetings and socials (what a concept) and were married.  They eventually had two children, my father Stephen Skinner and my aunt, Leanne Crain.  Both children were taken to church and raised in a home with Christian virtues and instruction.  Both were saved at early ages and married saved individuals.  They both had two children, a boy and a girl, all of whom were saved with myself being the last saved although oldest chronologically.  I was the most obstinate sinner of the family.
Now, with a family of my own including a saved spouse and our oldest child saved (two to go), I look back to consider how God's grace entered into my natural family's heritage and I found myself staring at Mabel Roberts' headstone at Payne cememtary.  I honestly didn't even realize she was buried there until Saturday.  My heart has been broken and humbled in considering how the Lord used one of His children to carry a burden for a little boy and made a way for him to get to sit under the sound of the gospel. My praise and gratitude belongs to the Lord for His wonderful mercy and compassion!!  I also am humbled and thankful beyond words for Sister Mabel and those like her who yearn to see people saved beyond the scope of "mine and ours".  How blessed I have been and it may be traced back to a humble church member, a poor neighborhood boy and a breadsack shirt.
Following the funeral service Saturday, my wife said to me, "Well, I got one thing from your sermon today" (That's one more than usual)  "I want to be a Mabel Roberts."   I silently drove the car back to Bolivar and thought to myself, "Me too…….that's exactly what I want."
Lord, help us to get over ourselves and our self-absorbed lives that we may see the little James Skinners of the world.  You have already shown me what you can do to bless the lives of many others through the obedience of one of your children.
From:
https://www.facebook.com/notes/douglas-skinner/sister-mabel-roberts/10151658607086473